17th March - 9th April 2021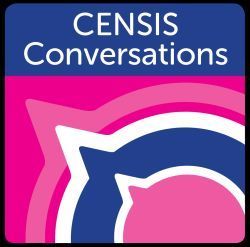 Episode 4: Climate change and COP26
Available to watch now on You Tube (running time 48:17)
Hosted by science and technology writer Gemma Milne, CENSIS Conversations is a series of long-form discussions exploring the use of sensing, imaging and IoT technologies in different subject areas. By bringing together diverse groups of people – from technology developers to end users – who share a common interest in the subject, we hope to offer thought-provoking discussions that analyse subjects from different angles.
Panellists
Joining Gemma for this discussion are:
Duncan Booker, Chief Resilience Officer and COP26 Stakeholder Manager, Glasgow City Council
Martin Valenti, Head of Climate Enterprise and COP26, Scottish Enterprise
Rachael Wakefield, Business Development Manager, CENSIS
The Conversation
In this conversation, the group explores challenges around climate change particularly in the run up COP26, the United Nations climate change conference being held in Glasgow in November 2021. We discuss how decisions made at this summit will affect businesses and organisations in every market sector – and what they can do to respond. We'll look at Scotland's mobilisation strategy for COP26 and at a local level, hear how Glasgow is getting ready for the summit. And of course, as a thread running through these discussions, we'll explore how IoT, innovation and collaborative partnerships can all be used to identify solutions.
Transcript
A full transcript of this Conversation is also available (PDF)