8 March 2021 | Helen Sandison, Senior Engineer, CENSIS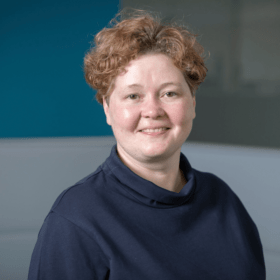 Why the spotlight on science throughout Covid-19 crisis could encourage more women and girls into STEM
by Helen Sandison, Senior Engineer, CENSIS 
Throughout the pandemic, science and technology have played an enormous role in our collective and individual coping strategies. From Microsoft Teams meetings and Zoom quizzes, to vaccine development and the initial demand for ventilators and PPE, science – a term which encompasses such a wide variety of skills and disciplines – has come under the spotlight in a number of ways.
Data is now ingrained in our day-to-day lives, with statistics and charts in daily briefings and on the news helping to communicate the impact of the pandemic, while figures around the vaccine rollout are helping us to look towards a return to normality. Restrictions on the entire population have been implemented based on data, and the general public have kept a close eye on trends and patterns that might indicate change.
Terminology previously only used by those in the scientific community has also become part of everyday conversation. For instance, pre-2020 only a handful of people would have been explain what an R number was and how that might impact the ways we live and work.
However, despite the impact of science reaching us all, it is still an industry somewhat dominated by men. While there will likely only be a few positives to take from the experiences of Covid-19, it could be a necessary catalyst for change, challenging some of the perceptions and misconceptions that prevent some women and girls for progressing opportunities in STEM (science, technology, engineering, and maths).
Engineering, for example, was once thought of as a career path for those who wanted to get their hands dirty and get involved with heavy industry, but it has evolved and continues to progress in line with new innovations and developments in technology. Of course, the conventional roles are still out there, but careers in engineering can now look quite different. They involve computers, coding, and digital tools – which might be largely desk-based activities – as well as a range of collaboration and communication activities.
It might not be the first thing you think of, but engineering can be very creative – it goes far beyond being a 'geek' with an aptitude for science and tech. It's about finding the answers to real-life challenges, such as those we have seen over the last year, and there is no reason why women and girls shouldn't play a bigger role in that process.
There are a number of organisations helping to challenge stereotypes and support women in science and tech in Scotland and across the UK. The STEMettes, for instance, founded by Anne-Marie Imafidon, encourages young women to consider STEM as part of their education and future careers; Equate Scotland offers training and careers support as well as working to change cultures in industry and academia; Scottish Women in Technology works with schools and young people, celebrates the achievements of women in STEM, and provides access to training and development funding; and Ada Scotland hosted its first annual festival in 2020 to unite the multiple partners involved in addressing the issue of gender balance in Scottish computing.
However, there are still few well-known female scientists that young people can look to as role models. Perhaps once the immediate threat of Covid-19 subsides, there is an opportunity to celebrate the pivotal role of women in our response to the pandemic.
Nevertheless, over the past 20 years of my career equality in tech has undoubtedly improved. As a student, I was one of 10 women among a cohort of more than 100 men, but today we see much more of a balance in the classrooms and in industry.
Other trends brought about by the pandemic, such as remote working and developments in online learning, will continue to support women in science and tech. For some, Covid-19 has been a time to reflect and consider what really matters to them, in work life and at home, and it might be the opportune time to change career direction. Careers in science and tech have never been more relevant or important and I hope to see that reflected in volume and diversity of talent coming into the sector over the next few years.
International Women's Day 2021
Helen, along with CENSIS's Business Development Manager Rachael Wakefield, both featured in Technology Scotland's special feature for International Women's on 8 March 2021 celebrating women in the enabling technology sector in Scotland.