15 March 2021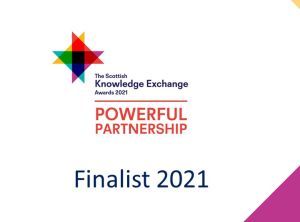 CENSIS and partners Thales UK (Glasgow), Police Scotland and the University of the West of Scotland, have been shortlisted for yet another award for their ground-breaking machine learning project to help find missing people.
The partnership has been shortlisted in the new Powerful Partnerships category of the 2021 Scottish Knowledge Exchange Awards, delivered by Interface. The awards will be announced in an online ceremony on 21 April  2021.
The technology, the first of its kind to be used by police forces in the UK, is a form of machine learning providing real-time image analysis for identifying humans. The system is now being used by Police Scotland to help find missing people in remote and rural areas. Thanks to its advanced cameras and 'deep learning' technology, the system can identify a human who might only appear as a speck in the distance.
The partnership has already won several awards, winning the Innovation category at the 2020 Ceed Awards and then later last year, scooping the prize in the highly-competitive 'Knowledge Exchange / Transfer Initiative of the Year' category at the Times Higher Education Awards.