16 March 2021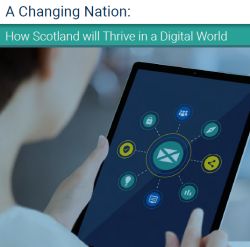 This month saw the publication of an updated Digital Strategy for Scotland from the Scottish Government called 'A changing nation: how Scotland will thrive in a digital world'.
The strategy reflects the opportunities that exist for Scotland to maximise the transformational potential of digital technologies, including IoT.
So much of what Scotland wants to achieve over the coming years – from post Covid economy recovery and addressing net zero climate change goals, to greater social inclusion and improved education and healthcare resources – will be linked to the adoption of digital technologies, the use of data and the innovation that will flow from that.
CENSIS welcomes the publication of the report, particularly around the Scottish Government's commitment to attract national and international investment around the development of new IoT products, processes and services. Businesses and organisations of all types and sized can use IoT to gather real-time information to make decisions, support tasks, or learn from processes. The potential benefits are bountiful and can include optimising resources, improving safety and compliance, generating operational efficiencies, or even identifying new markets, products or business opportunities.