23 March 2021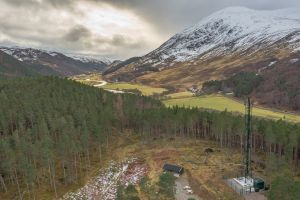 A consortium of research partners led by CENSIS and working together in support of Moray's regional growth deal, could pave the way for better connectivity in remote and rural areas by creating a new commercial model for delivering critical telecommunications infrastructure.
With funding from the Scottish Government, CENSIS, the Scotland 5G Centre, and the Digital Health and Care Innovation Centre, will develop an economic model that could redefine the assessments behind infrastructure deployment, prioritising the potential value to communities over cost.
The new approach will aim to address the 'digital divide' between areas that have access to fast, reliable telecommunications – typically large population centres – and communities that experience limited access to increasingly vital public services, many of which are in rural Scotland.
The study will draw on a much wider range of factors to determine the overall viability of network infrastructure, rather than relying purely on the number of people in a given area.
Using healthcare as the principal use case, it will factor in the societal and quality of life benefits that enhanced connectivity could bring to rural areas. This will be determined, for instance, by the cost prevention and health benefits delivered by supporting people with underlying conditions to live more independently and avoid hospitalisation, or re-admission, through tele-medicine or remote care services.
Paul Winstanley, CEO of CENSIS, said: "We are aiming to change the way we assess the viability of proposed telecommunications infrastructure, to the benefit of currently under-serviced communities. While there might be a smaller need in rural areas when you look at it purely in terms of population figures, network coverage is incredibly important from societal and economic impact perspectives – factors not currently priced into existing commercial models.
"On the back of the pandemic we have seen huge growth in access to services being delivered remotely. As a consequence of a lack of connectivity people in rural areas don't have that opportunity and this project could be the foundation of addressing that imbalance in the long term.
"Building on the collective strengths of the three centres, we can demonstrate the value delivered using healthcare as the initial use case and then build out a range of other applications that could deliver socio-economic benefits in rural communities."
The health use case will be developed by DHI, while CENSIS will look at the additional applications in other sectors. The Scotland 5G Centre will analyse the connectivity through different telecommunications standards – including, but not exclusively, 5G.
Although the project's main geographical focus will be Moray, it will also examine how the same model might be applied to rural and remote areas in the south of Scotland. The principles developed by the study could be employed by communities in the UK and potentially across the world.
Paul Coffey, CEO of The Scotland 5G Centre, added: "The pandemic has highlighted the critical importance of digital connectivity; and that need is particularly evident in the healthcare sector. The Centre's role is to support equitable access across Scotland because we believe that wireless connectivity needs to be as readily available as our electricity and water supplies."
George Crooks OBE, CEO of DHI, added: "This project will demonstrate how the evolution in telecommunications technologies can be best leveraged in support of securing community resilience. Supporting people to make better health and wellbeing choices, allowing the provision of safe, effective and responsive healthcare through the use of next generation digital solutions in rural areas is a priority across Scotland which can be successfully delivered.
"The project will also seek to identify how this type of infrastructure investment can be utilised create economic opportunities for these communities and so creating wider benefits. The three Innovation Centres working together, contributing their specialist knowledge and expertise, will demonstrate the true value add that innovation can bring to the lives of individual people and the communities where they live."