8 June 2021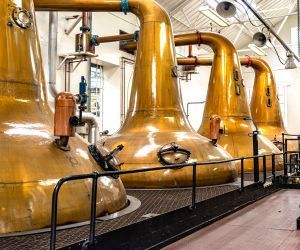 CENSIS is hoping modern and graduate apprentices will be able to toast successful ideas to repurpose waste heat from whisky distilleries, in the new Fuel Change Challenge launching in June 2021.
CENSIS is one of three Innovation Centres (plus Data Lab and Construction Scotland) providing challenges for apprentices to develop innovative low carbon solutions to real issues being faced by industry and society. Other challenge providers are Arcola Energy, BAE Systems and the two University of Strathclyde initiatives, the Power Networks Demonstration Centre (PNDC) and Driving the Electric Revolution (DER).
CENSIS, having supported a number of IoT-focused projects involving the food and drink sector including the whisky industry, is looking for creative apprentices to put their thinking caps on to see how waste heat generated by distilleries could be used to benefit local communities and the environment.
With over 130 distilleries in Scotland and every one of them needing to bring in heat to create their products, CENSIS is excited to see what the apprentice teams can come up with. Solutions could including applications in horticulture or agriculture, for instance, or for heating or cooling homes and buildings as part of a district heating systems – recycling the heat used throughout the whisky distilling process.
Paul Winstanley, CEO of CENSIS, said: "Whisky production is one of Scotland's most valuable industries and is huge contributor to the Scottish economy, accounting for around 75% of our food and drink exports. Distillation at scale, however, is an energy intensive process which can often result in wasted or surplus energy, alongside the co-products such as draff and pot ale that often end up being used by livestock farmers for feed.
"There is a real opportunity to collaborate and find new ways to think of whisky distillation as part of a circular economy, where one industry's waste can be used by another. Innovation is fast becoming a key driver in Scotland's ambition to reach net-zero and initiatives like this demonstrate the potential impact of working together to make positive changes that protect local environments and address the challenge of climate change."