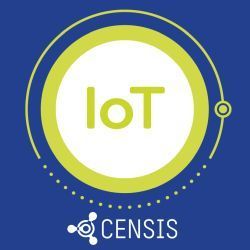 Part of the SMAS 2021 Conference, this workshop will be delivered by Dr Cade Wells, Business Development Manager, CENSIS; Paul Hingley, Product Solution & Security Officer GB&I, Siemens Digital Industries Software and Keith McDevitt, Cyber Security Integrator, Scottish Government.
Join CENSIS and partners  for this workshop on challenges, solutions and opportunities on IoT cyber security in manufacturing.
The Internet of Things (IoT) is the interconnection of physical and virtual objects that communicate with each other and share data. In a manufacturing setting, IoT devices can cover everything from simple temperature sensors, to networks of devices monitoring the smooth running of every part of a manufacturing plant.
At its core, IoT helps businesses better understand their operations and shines a light on how well facilities are performing in real-time. Providing better visibility at every stage of a manufacturing process allows businesses to ditch the clipboards and manual checks and generate new operational efficiencies, whether that's reducing costs or margins of error, managing supply chains, or even improving safety and security by identifying and resolving workplace hazards.
While IoT has the potential to generate significant industry benefits, its interconnected nature means there are also challenges in its adoption in a manufacturing setting. Cyber-attacks on an IoT system could potentially lead to the loss of sensitive information; the destruction or tampering of data impacting system functionality; physical damage; or even complete system paralysis.
With so many IoT devices and systems pouring on to the market, it can be hard for companies to know where to begin, but CENSIS can help.
At this workshop, Cade and Paul will discuss their experiences of helping companies adopt secure IoT. By the end of the event, you'll have an understanding of the issues you need to consider before installing IoT devices – without being overwhelmed – and we'll also signpost you to support programmes and organisations that can help you start to plan your IoT journey, including CENSIS's own (and free) IoT Secure service. There will also be plenty of time to ask questions.
The workshop is suitable for manufacturing companies of any size or type. You don't need to have a technical background to attend.
This event is delivered as part of the 2021 SMAS Conference. Please register for the conference to attend the workshop.