28 June 2021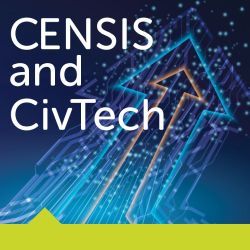 Organisations partner to drive the next generation of tech for public services
CENSIS and the Scottish Government's CivTech programme have formed a strategic partnership to support the development of new technology that can tackle some of the biggest challenges facing public services.
Launched on 14 June 2021, CivTech 6 saw CENSIS collaborate with the Scottish Government's Digital Directorate to define some of the biggest challenges facing critical public services including climate change and Scotland's transition to net zero; healthcare in the post-Covid world; supporting rural communities; and managing educational estates for the benefit of pupils, teachers and the wider community.
The CivTech 6 challenges CENSIS has helped shape are:
Following the programme's launch, successful applicants will be taken forward to the exploration stage to identify technological solutions (CENSIS is not involved in the applicant selection process). After four weeks, participants will then move to the accelerator stage. The companies will develop their proposition into early-stage prototypes, with the first likely to be delivered in early 2021.
CENSIS will support the selected companies throughout the different stages of CivTech, helping them to develop their technology, mature their offering, and potentially accelerate their business growth through access to the innovation centre's facilities and capabilities.
The partnership recognises the growing importance of IoT technologies that has emerged during previous CivTech challenges. In the first programme, just one of the challenges required IoT support, but by last year this had risen to six out of the 10 in total.
Paul Winstanley, CEO of CENSIS, said: "Our partnership with CivTech is about bringing together specialisms and skills in a way that will deliver real change for public services. CENSIS and CivTech have a range of common objectives, including supporting the drive towards net zero by 2045, and through collaboration we believe we can collectively achieve greater impact, while helping to develop and scale more technology-focussed businesses in Scotland."
Ivan McKee, Trade Minister at the Scottish Government, added: "The partnership with CENSIS is the first time CivTech has worked in this way. It will help the public sector bring challenges forward and create new ways of working with companies to deliver technology that has a positive impact.
"We would encourage anyone – whether you work for a large business, an SME, or are an individual – with an idea that addresses the challenges to apply. Whatever your background is, we can help you develop a product or even a business during the programme."
To view all 12 CivTech 6 challenges, please visit the CivTech Alliance website.