22 July 2021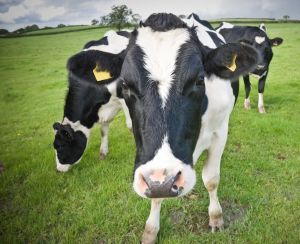 New funding set to help create 600 new jobs
A partnership of public and private organisations – including CENSIS – has been awarded more than £21 million of government funding provided through UK Research and Innovation's flagship Strength in Places Fund to deliver a digital dairy project that aims to create 600 new jobs in south-west Scotland and Cumbria.
Led by Scotland's Rural College (SRUC), the Digital Dairy Chain could generate an additional £60m a year for a region which produces nearly two billion litres of milk a year. The project will provide a platform for research and business innovation in advanced, sustainable, high-value production and processing.
Globally, the industry produces around 3 per cent of greenhouse gases related to human activity. As well as helping to decarbonise the region's dairy industry, the project will help to develop and retain a skilled and innovative workforce in the area to create new products and new ways of working. These will be special to the region but also globally relevant in best practices and changing the perception of dairy as a high-value product.
The project team will work with the dairy industry to develop and implement technologies for sensing and data handling, as well as infrastructure to support innovation and growth for local businesses, nurturing young entrepreneurs and teaching and training of new skills and capabilities. It will deliver advanced manufacturing processes to create a fully integrated and traceable supply chain as well as help businesses to develop new products and explore new markets.
Beginning in 2022 and running over five years, CENSIS will deliver a series of technology accelerator programmes designed to boost business growth in the sector and support start-ups, scale-up businesses and established companies to develop and deliver innovative products and services.
Other partners include First Milk, Lactalis UK & Ireland, Kendal Nutricare, Cows & Co Group, National Milk Records, University of Strathclyde, University of the West of Scotland and SmartSTEMS.
Dr Rachael Wakefield, Business Development Manager at CENSIS said "Our annual technology accelerator support programme delivered as part of this project will help companies, start-ups and entrepreneurs in the region quickly prototype a new digital product or service that can be put to the test at the demonstrator facilities and businesses within the collaboration, and then the wider network."
"Getting your new technology adopted by the market is not easy; it's a hard game, so having the luxury of a supply chain in a project like this will be a powerful springboard for emerging products. This is a great opportunity to win confidence among adopters, and for the sector to facilitate growth and help attract new talent and skills to this important rural industry."
The project will be based at SRUC's Barony campus near Dumfries, as well as at sites in Cumbria and across south-west Scotland.