30 July 2021 | Stephen Milne, CENSIS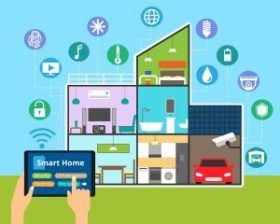 Stephen Milne, Director of Strategic projects at CENSIS, discusses the new £12 million project  to support the wellbeing and social needs of older people
This piece was initially featured in Scottish Housing News, published 30 July 2021
Life expectancy data shows that while people are generally living longer lives – an estimated 81 years on average in the UK – we are not necessarily living them healthily. The Scottish Government published its first national population strategy earlier this year, which shone a spotlight on areas such as education, infrastructure and housing and the role they play in supporting an ageing population.
As people age, they need different, accessible housing options that will allow them to live independently for as long as possible, while also supporting their wellbeing and social needs. The nature of the housing challenge is complex, but technology and innovation could help to pave the way for a new calibre of accommodation for older people.
A new £12.5 million project will to create three demonstrator neighbourhoods was recently granted UK Research and Innovation funding as part of the Industrial Strategy Challenge Fund's Healthy Ageing Challenge. Researchers are aiming to create a blueprint for age-friendly communities that can be reproduced at scale across the UK.
The initiative – known as the 'Peoplehood' project, and led by Blackwood Homes and Care partnering with CENSIS and others – aims to take a whole neighbourhood approach to address a number of challenges. Communities will be developed in Dundee, Glasgow and Moray covering rural and urban locations, and new-build and retrofitted developments. Importantly, the plans are being created in close consultation with the residents and support workers who will live and work within the neighbourhoods to ensure it meets their varying needs.
Internet of Things technology will play an important part in unlocking the potential in terms of the ways the developments will operate.  Over the next three years, CENSIS will explore the best ways IoT can enable this new model of community living for healthy ageing. This will involve not only looking at deploying technology into 'age-friendly' homes, but also at how IoT could create outdoor spaces that help residents stay physically active, or even support social connections between residents and the wider community.
Of course, due to the interconnected nature of IoT systems, there will be challenges around cyber security and resilience to address, and CENSIS will provide advice and best practice in this area, paying particular attention to the potentially sensitive nature of the data being gathered. To that end, the project will be following stringent protocols around ethics and privacy, including how residents will control and manage their own personal data.
Ultimately, connected technology could be one of the strongest tools we have in our armoury to support independent living. New attractive, sustainable neighbourhoods could help to increasing the number of years a person will live an independent and healthy life without medical intervention or social care.
Covid-19 placed a renewed focus on the role of the community; however, we cannot forget the challenges around wellbeing and social isolation older generations were faced with. As we develop our communities of the future, the most important consideration is the people who will live there, through a new blueprint for designing technology-supported communities that support healthier and more independent lifestyles for older people.