5 January 2022 | Stephen Milne, CENSIS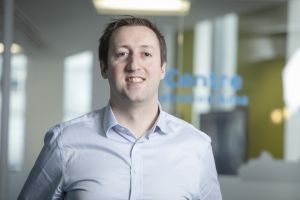 A year ago, one would have hoped that by this stage in 2021 we would be in a relatively reasonable position to make some predictions about the 12 months that lie ahead. Yet, we find ourselves in a strikingly similar position to where we were last December.
Even though it might seem difficult to look into the future with so much uncertainty in the near term, there are still some distinct trends emerging that will likely shape the next 12 months, providing positive steps from an environmental perspective, as well as challenges in other respects.
Here are the five themes we expect to play a significant role in Scottish technology in 2022:
1 – Sustainability through IoT
Perhaps no surprise given COP26 took place in Glasgow this year, but sustainability is likely to be the dominant technology theme during 2022.
More sectors are picking up on how the two can be combined – particularly through the Internet of Things (IoT) – and applied to relevant use cases such as asset-tracking, energy reduction, and environmental monitoring, moving beyond just talking about its potential.
Over the last year or so, infrastructure, such as LoRaWAN and cellular networks, has become more widely available and provides a new level of connectivity, especially in urban areas. This will make it easier to deploy new pilots and test cases.
2 – Local government takes IoT from pilot to scale
We expect to see some big examples of IoT projects in local government advancing from pilots to full-scale applications on the back of receiving investment and demonstrating operational gains.
There will likely be at least a handful of examples, ranging from building monitoring and monitoring rubbish levels in public bins, to smart lighting. We saw an example of the latter in 2019 when Aberdeen City Council announced the launch of its intelligent street lighting, allowing them to be controlled, dimmed, and remotely monitored.
Working with the Local Government Digital Office's smart infrastructure group, we are gathering the best examples from across Scotland to make the country a leader in terms of best practice for IoT's use by local authorities.
3 – More 5G networks
5G has been gaining momentum over the course of the pandemic, with TV adverts selling its potential uses to consumers. However, the most interesting aspect of 5G will be the fact that it allows organisations to create their own private networks, which can allow local processing applications enabling interesting use cases in robotics and industrial IoT.
A lot of different use cases can be applied to that and last year saw the set up of one of the first private 5G networks at the National Manufacturing Institute Scotland. Exciting as they are, the caveat is that they are also relatively expensive.
It is still early days and companies are only starting to explore the different ways they can be used, but we expect to see more private networks set up over the next 12 months as 5G becomes more mainstream in manufacturing and by businesses with large estates, such as ports and airports.
4 – Supply chain challenges to continue
Some of the challenges of the last 12 months are likely to endure into 2022 – beyond the most obvious, Covid-19's impact, supply chain issues look to be among them. The pandemic has had a range of knock-on effects for multiple sectors, one of which has been a shortage of electronics.
In recent months it has affected companies of all sizes and led to substantial lead times for a range of products, including electric vehicles. Companies will have to factor possible shortages into their plans and be careful to ensure they will have access to all the components and parts they need.
While we see it being an issue in the first half of next year, we would hope to see this ease into the second half.
5 – Growing use of IoT in regulated use cases
Finally, we expect to see more use of IoT and similar technologies for regulation purposes. A recent example of this already beginning to emerge was a recent announcement from the UK Government that it will begin trials of a 'smart' customs border to support smoother trading with Europe post-Brexit.
Similarly, water safety and environmental monitoring are areas with good potential for the application of IoT technologies, where there is a statutory requirement for businesses and public sector organisations to report to regulatory bodies.
There could be lots of commercial potential for companies providing technologies in these markets, as well as other regulated industries, over the next 12 months.