A part of CivTech 6 Demo Day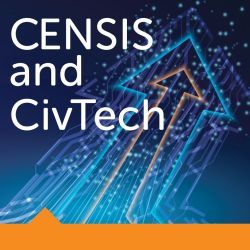 This event is free to attend. Please register via Eventbrite
Working in partnership, CENSIS and the Digital Office for Scottish Local Government have launched a programme to help Scottish local authorities use IoT to manage and optimise their services and infrastructure.
Understanding how local government infrastructure performs in real-time can help local authorities generate efficiencies, reduce energy consumption and meet net zero targets, as well as improve the experience or wellbeing of the various service users.
Please join us for this session hosted by CENSIS's Strategic Projects Director, Stephen Milne and Colin Birchenall, the CTO for the Digital Office for Scottish Local Government. Stephen and Colin will walk you through some of the key elements around IoT implementation in local authorities, and showcase several case studies currently being delivered at scale across Scotland – including gritting systems, smart ports, waste management and more.
After an introductory talk lasting approximately 30 minutes, the floor will be open for a group discussion, including the potential to identify future CivTech challenges.
Anyone can join this session, though you will get most from it if you are currently working for a Scottish local authority. You do not need to have a technical background or be planning an IoT project to take part.
Webinar host: Stephen Milne
Stephen Milne became CENSIS's Director of Strategic Projects in 2021 after spending time as Business Development Manager. His work focuses on identifying and securing larger and longer-term projects – working with funders from across the UK – and developing new partnerships with companies and academic institutions. Stephen holds an Engineering Doctorate in medical devices from the University of Strathclyde. He also studied at Babson College, Boston, one of the top rated US business schools, as part of Entrepreneurial Scotland's Saltire Fellowship programme.
Webinar host: Colin Birchenall
Colin Birchenall is the Chief Technology Officer for the Digital Office for Scottish Local Government which facilitates a collaborative approach to digital transformation across Scotland's 32 local authorities and the Chief Digital Officer at Glasgow City Council where is responsible for the Digital Glasgow Strategy. In his spare time Colin is a volunteer for the Institution of Engineering and Technology (IET) where he is as a member of the IET's Digital Policy Panel and a subject editor for the IET Smart Cities Journal.