4 February 2022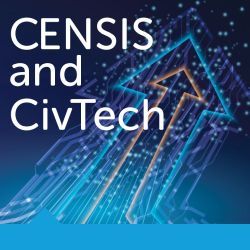 The Scottish Government's CivTech programme was the world first Public Sector Accelerator.
CivTech supports the development of solutions to real public sector challenges by collaborating with innovative private sector partners, working with public and third sector organisations across Scotland to define open challenges and identify problems. Any business, organisation, team or individual can respond and propose how they would solve it.
Now CivTech is on the lookout for its seventh cohort of Challenges. If you have a challenge – even if it's unconnected to CENSIS's expertise – the CivTech team is there to help. Get in touch at civtech@gov.scot by 28 March 2022.
CENSIS and CivTech partnership
In 2021, CENSIS and CivTech formed a strategic partnership to support the development of new technologies to address CivTech challenges. CivTech 6 saw CENSIS collaborate with a number of bodies to define their biggest challenges including:
CivTech 6 Demo Day
A great way to learn more is to watch presentations from CivTech's Demo Day 6 where CivTech Accelerator companies were introduced by their sponsors and delivered pitches outlining their solutions. Click on each company to be taken to the challenge and view the proposed solution.
Innovation funding available
At CivTech Demo Day 6, Ivan McKee, Minister for Business, Trade, Tourism and Enterprise, announced £6 million of additional funding for CivTech – an innovation programme and partnership between the Scottish Government's Digital and Economic Directorates.
Mr. McKee's announcement is fantastic news for Scotland's public and third sector. Funding through the CivTech programme between April 2022 and March 2023 can be used for innovative solutions to the most pressing and persistent challenges or problems you face. Up to 75% of project costs can be covered and the programme can fund public and third sector projects up to a total value of £1.2 million. The types of projects can vary (previous projects have covered everything from forestry to mental health) and our team will support your organisation through the process regardless of the stage you're at.
Launched in 2016, CivTech's mission is to drive daring and innovation in the public sector and third sector by collaboratively solving challenges to make people's lives better – and in doing so create sustainable, high growth potential businesses.