3 March 2022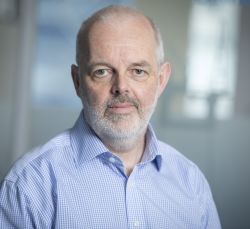 CENSIS CEO, and co-founder of the Filament STAC accelerator programme, Paul Winstanley, was part of group welcoming Jamie Hepburn MSP, Minister for Further Education, Higher Education and Youth Employment and Training, to the STAC headquarters in Glasgow yesterday (2 March 2022).
Along with fellow co-founders Paul Wilson and Gregor Aikman, Paul met with Mr Hepburn to discuss STAC's mission to put Scotland on the map for IoT technologies. The programme's three year target is to create more than 25 IoT companies and support hundreds of jobs. Partly modelled on an existing programme in Canada, Filament STAC (Smart Things Accelerator Centre) is also building on the IoT experience and expertise created in Scotland by CENSIS.
Also attending on the day were Linda Hanna of Scottish Enterprise and Karen Jackson of South of Scotland Enterprise to discuss progress and plans to encourage collaboration and partnership between STAC, Scotland's universities and the wider innovation hubs to support the next generation of tech entrepreneurs.