9 May 2022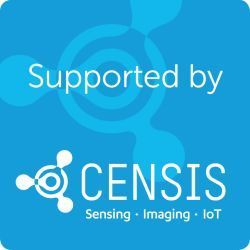 Has your organisation been 'supported by CENSIS'? Secure a copy of our new logo and share our partnership with your network
Are you a current or former project partner of CENSIS? Has CENSIS worked with you in some other way, perhaps through one of our accelerator schemes or maybe you've received advice from us via a service like IoT Secure? If so, please apply to use our new 'supported by CENSIS' logo to show others our shared connection.
You can use the logo wherever you like, whether that is on your website, on social media, or in other marketing materials such as leaflets, posters or even videos.
With funding that comes largely from the public sector – the Scottish Funding Council, Scottish Enterprise, and Highlands and Islands Enterprise – it is important for our stakeholders to see how funding is being used, and for the wider IoT ecosystem in Scotland and beyond to see the types of organisations and companies that CENSIS can work with. It is a positive way of showing what funding and support can achieve.
The 'supported by CENSIS' logo shows that we have made an investment in your idea, project or activity. The work you do is the best advertisement for public funding of Scotland's technology sector.
If you would like a copy of the logo, please get in touch with sian.williams@censis.org.uk and share your details.
While we're delighted for companies and organisations to display the 'supported by CENSIS' logo, there is no obligation to do so. Any current or future support from CENSIS is not conditional on the logo being used.