10 May 2022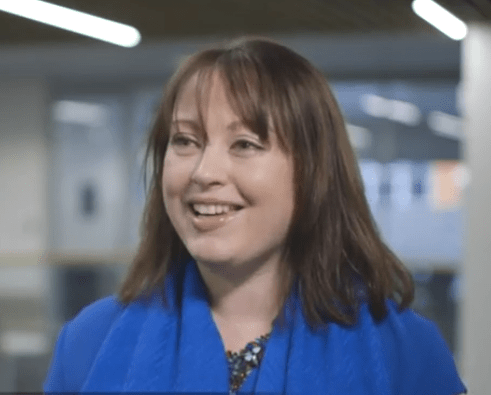 We are delighted to have our annual Technology Summit return later this year for the first time since 2019. Registration is now open for the free, in-person event, taking place at the Glasgow Royal Concert Hall on the 29th of September 2022.
In the meantime, we are excited to share that our chair for the Technology Summit will be IBM's Global Technical Lead for Government, Sharon Moore MBE.
Sharon has more than 20 years of experience working with digital technologies. She is passionate about innovation and applying it in the context of the challenges her clients face, including the ever-changing priorities resulting from macro events such as Covid-19 and the climate crisis. You'll often find her on stage championing the positive impact technology can have on our lives and advocating for ethical technical advancement.
A catalyst for change in inclusion – particularly regarding gender diversity – Sharon is a published author on the subject. She was awarded an MBE in the Queen's Birthday Honours in 2018. In this Q&A, Sharon shares her views on technology in the public sector, inclusion in industry, and her experience of the Technology Summit in previous years.
"[The Tech Summit] is a great opportunity to network … a celebration of real stories where technology has made positive change"
You've been to the CENSIS Technology Summit before, what's your experience of previous years?
They have been excellent events – I've absolutely loved them. It's a great opportunity to network with people from around Scotland, particularly individuals looking to make a difference in this country with technology.
The conference has a good balance of looking to the future and showcasing what's actually being done with technology now. It's a celebration of real stories where technology has made positive change. That's very important to inspiring new ideas.
What do you hope attendees take from the event?
The value of the event is undoubtedly in bringing the entire ecosystem together to generate growth for Scotland and put us on the map. It helps you identify opportunities and bring the right people together to address potential use cases.
It also highlights the value CENSIS can bring. The story behind the project between Police Scotland, Thales, and the University of the West of Scotland that was presented at the last Technology Summit is a great example of what CENSIS can help deliver, combining economic and social benefit with making academic research more accessible.
What are you most looking forward to this year?
I'm most looking forward to it being a physical conference again. Having conferences like these online is better than not having them at all and you can learn a lot, but turning ideas into action is more likely to happen when people can connect together in person. There's nothing like being surrounded by people in the same mind space.
"Technology is a people business, so you need to use soft skills to understand what is driving the person or people you're talking to"
You've recently taken up a new role at IBM, can you tell us about it?
Yes, I'm now IBM's global technical leader for government, sitting within IBM Technology's global government team. It's all about supporting the public sector and governments across the world to embrace technology.
What has your experience been so far?
It's been highly positive, but it would be fair to say there is so much more room for using artificial intelligence (AI) and hybrid cloud solutions.
A lot of use cases for AI are associated with automation – but the two terms are not interchangeable: not all automation is driven by AI. Instead, we tend to think of AI in terms of providing assistance with better decision-making. In that sense, it is more about augmented, rather than artificial, intelligence.
What does that mean in practice?
For example, currently, a change of circumstance might mean a citizen may have to inform HMRC, the Department for Work and Pensions, and a host of other Government-provided services and end up with quite a large administrative – and potentially emotional – burden. Imagine a situation where data held across government departments is joined up. Technology could be used to cut out that repetition with intelligent automation supporting decision making about which services must be informed, which must take action and even propose which actions to take. AI could be applied to provide practical insight about any decisions, to support a civil servant as they in turn support the citizen with their life change.
Is it easy to convince people of the difference technology can make?
That is a big part of my role. A lot of the literature about technology is written for technologists – but there are a lot of people with different backgrounds who use technology. They often want to understand what the business benefits of particular tools are, which may not be obvious.
Stories are incredibly useful in helping people understand, so a big part of what I do is storytelling. Technology is a people business, so you need to use soft skills to understand what is driving the person or people you're talking to. What is their job role? What background do they come from? How do they communicate?
"There is scope to do more … particularly for Scotland as a small country, to learn from."
Closer to home, what could the UK and Scottish Governments be doing better with technology?
There are lots of positive things happening with technology in government in Scotland and across the UK. Of course, there is scope to do more and there are some really interesting examples, particularly for Scotland as a small country, to learn from. Estonia is a great case in point, a country that is a European and global leader in the digitalisation of its public services.
These are the types of initiatives we should be aspiring to, especially in terms of transparency. We could say to the government, here is access to all my financial data for tax purposes, tell me what you think I owe in tax, rather than millions of people having to go through the process of self-assessment every year.
Of course, while we need to be more ambitious about sharing data, we also need to acknowledge that this needs to include investment in tackling digital poverty and supporting skills and literacy to help people understand what's going on.
" If technology is going to serve its intended purpose successfully, we need to serve and include everyone."
Outside of work, you do a lot on the importance of inclusion in the tech sector. Could you tell us about why that matters so much?
Fundamentally, technology is about developing solutions to problems. That's why it's crucial that we represent the society we're developing solutions for.
I recently attended the Scottish AI Summit where  one of the speakers talked about the importance of reaching further away groups and that way we can catch others on the way back in. That doesn't just mean more women in tech, in means diversity in a broader sense too.
The more diversity we have, the more we can spot those 'gotcha' moments. It's not the only fix, but it will help.  If technology is going to serve its intended purpose successfully, we need to serve and include everyone.
Are there still barriers to women working in tech?
There absolutely are – too many young women aren't encouraged to go into tech and, in some cases, are even discouraged from seeing it as a career option.
Unfortunately, there is still a 'brogrammer' reputation attached to the industry and many people see it as 'geeky'. These preconceptions also feed parents' attitudes, who can be highly influential on career choices for their children.
I would argue that tech isn't a geeky choice at all and, even if it is, there are still lots of different flavours of geekiness. The perceptions of the industry are very different to what they could and should be.
And if we are going to bring women into the industry we must ensure it is inclusive so that they stay.
What do you think is the biggest misperception about the tech industry?
 There are a few, but one of the most common is that all jobs in the sector are about coding. There is so much more to it than that – there are a broad range of roles that require different skills, whether you are a data scientist, scrum master, or a solutions architect.
Even coding isn't what most people think of it. I know of one case where a company sent their entire marketing team on a BCSWomen coding taster course targeted at women so that they could better understand what the coders' jobs entailed. After completing the programme, one of the team was so interested on what she discovered she decided to change career and is now a developer.
Finally, you recently contributed to a book on diversity and inclusion in the sector – can you tell us about that?
I helped author Women in Tech: A practical guide to increasing gender diversity and inclusion last year alongside five other female writers. The book is largely targeted at leaders in the industry, outlining what needs to change at various levels to help encourage women into tech and then retain them in the industry.
The reception for it has been highly positive and we've already exceeded our target in terms of sales for the next three years. All the profits are going to charity, so that's been great news for the organisations we're supporting.
While the book's content focusses on women, a bit like the infamous Yorkie chocolate bar adverts from the early 2000s, it's not necessarily for girls. We need men in the industry on board too – they can make a huge difference to creating a more inclusive sector. So, I'd encourage any and all men in the industry to give it a read.
The CENSIS Technology Summit takes place on the 29th of September 2022 at the Glasgow Royal Concert Hall. Register now to book your free place.