20 May 2022 | Stephen Milne, CENSIS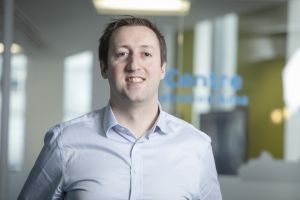 Stephen Milne, Director of Strategic Projects at CENSIS reflects on his visit to the IoT Solutions World Congress earlier this month.
Three years between events is a lifetime in the tech world, but in-person global technology conferences are back, and the Internet of Things (IoT) industry is moving at breakneck speed. So, it was fascinating to attend IoT Solutions World Congress in Barcelona during 10-12 May this year – hearing how the sector is evolving and seeing new trends emerge from across the globe.
With the size of the IoT market growing by a reported 25-30% every year, its overall value will have doubled since the last in-person congress was held. This was highlighted by the growing scale of the conference: there were more than 330 exhibitors, including most of the leading cloud computing hyperscale companies, 270 speakers, and 12,000 visitors from 120 countries.
After soaking in all the information and new technologies presented at the conference, there were three main trends that stood out:
Traditional software companies are moving into IoT data: The big software companies are increasingly looking at IoT to deliver real-time data from sensor devices, allowing them to move towards prediction and taking pre-emptive action – for example, to prevent equipment breakdown. The most significant hype area of new enabling technology was around digital twins. The aim of these is to use real-world data to create a digital model of physical assets in order to support decision making. There were a number of application uses for digital twins on display including manufacturing, transport, buildings and environmental monitoring and carbon capture, where they could have a major impact.
Applications of IoT are growing at an incredible rate: IoT has been talked about for a long time, but now we are seeing examples of it being used in businesses – there are so many commercial applications from deploying complex machine leaning on devices for health monitoring to digital twins mapping real time traffic movements within a city. The number of collaborations across different companies was striking, utilising their diverse technical expertise to produce new and exciting applications across the IoT stack. As IoT develops and grows, numerous companies with different offerings can help new applications quickly develop, test, validate ideas, and scale where required. As a result, it's easier than ever to create new concepts, test them and turn them into a product or service.
The industry is beginning to split: As the IoT market expands, we are starting to see the industry split into subdomains, with the technology becoming a standard part of how each industry operates. It's less about the 'what is it' and now about the 'how to use it'. All the new, headline-grabbing technology was on show – AR/VR, edge processing, 5G, digital twins and web3 – but, still, the conversation is shifting to the application layer. There were some incredible emerging business models that utilise IoT to create services that reduce financial risk for end-users. These new service models were particularly visible in manufacturing sectors. Developments like this will lead to significant industry shifts over the next decade and it will be interesting to watch it evolve.
It was fantastic to get back to face-to-face global events and see the growth and opportunities available to people developing new applications or using solutions to gain better insight and efficiency in their operations. Of course, we will need to work together to implement standards of safety and security in IoT so that the sector can continue to grow.
As we move towards a future of increased connectivity based on innovation, communication and collaboration, there are further discussions to be had. We need to build roadmaps to solve some of the world's critical economic, environmental, and social challenges and that will involve the use of game-changing technologies to help us all reap the benefits. Judging by what I saw at IoT SWC, digitalisation and IoT will be at the heart of the solution.