9 June 2022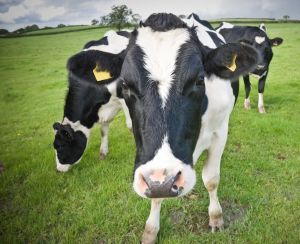 £24.9m Strength in Places Fund project will create over 600 jobs 
The south-west of Scotland and Cumbria are set to become the 'go to' UK region for future investment in high-tech dairy processing, following the official launch on 8 June of the £24.9 million pound Digital Dairy Chain project.
Funded by the UK Research and Innovation's flagship Strength in Places Fund, and led by SRUC from its Barony campus in Dumfries, the five-year multi-party project will see SRUC and the consortium partners – including CENSIS – focus on developing a fully integrated and traceable dairy supply chain.
The region is currently the UK's second largest milk field, producing 1.9 billion litres each year, with a farm-gate value of £750 million. There are 52 dairy manufacturing businesses adding value to milk produced from 1,300 farms. Aligning with Scotland's Strategy for Economic Transformation, the project is expected to created more than 600 jobs and generate £60m a year of additional value to the economy of the region. It aims to this by attracting large dairy processors to south-west Scotland and Cumbria, supporting investment in industry-focused R&D and by turning the region into a magnet for tech companies.
The programme's initial focus will be on the use of sensors and data from dairy herds and how it can be utilised to produce more and better dairy products. As part of its contribution to the programme, CENSIS will lead and deliver a multi-year, competitive accelerator programme, designed to help individuals and companies of any size in the region fast track ideas from proof of concept to demonstration and testing.
Professor Wayne Powell, Principal and Chief Executive of SRUC, said: "Working with local and national businesses, the Digital Dairy Chain will transform the region's dairy production systems and establish it as a global leader in advanced, sustainable and high-value dairy manufacturing.
"It will foster entrepreneurship, create new market opportunities, add new skills to the workforce and lay the foundations for more productive regions, all while making the critical journey towards net zero."
Rachael Wakefield, Business Development Manager and Digital Dairy Chain lead at CENSIS said "CENSIS has an excellent track record in delivering innovation support and rapid prototyping of enabling technology demonstrators, so we were the obvious choice to deliver the Digital Dairy Chain accelerator. Our focus will be on delivering connected systems that will to help the dairy partners solve challenges, build in digital capability and meet net zero targets."
"We look forward to helping establish the region as the UK's leading place for digitally-connected, enabling technologies supporting value-added milk processing"
In addition to SRUC and CENSIS, the Digital Dairy Chain partners includes the University of Strathclyde, University of the West of Scotland,  First Milk, Lactalis UK & Ireland, Kendal Nutricare, Cows & Co Group, National Milk Records and SmartSTEMs.