6 December 2022 | Stephen Milne, CENSIS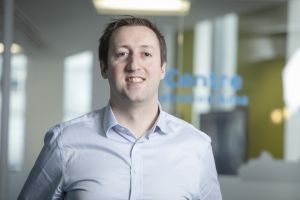 This article was first published in FutureScot on 1 December 2022.
The difference between the adoption and deployment of Internet of Things (IoT) technologies pre and post-Covid-19 pandemic has been quite remarkable. While just a few years ago we were mainly talking about concepts for using IoT, now we are beginning to see large scale roll outs of devices and the technology being used to transform product and service delivery.
It should be no surprise then that more consumers and businesses are using IoT devices than ever before. A recent Kaspersky report found that 64% of companies used IoT technologies during 2021, increasing 3% on the previous year.
As the number of IoT devices grows, so do the range of reasons behind how and why they are used, as well as the inevitable challenges that come with mass deployment of any technology. Much of that is what informs the five trends we expect to characterise next year:
Greater focus on IoT cyber security
Some IoT vendors have been criticised in the past for failing to install satisfactory security controls on devices. But, this will change in the UK with the expected passing of the Product Security and Telecommunications Infrastructure (PSTI) Bill during 2023.
Currently in its final stages, the Bill will ensure that manufacturers, importers, and retailers cannot sell products that do not meet required cyber security standards. Safely navigating this coming legislative change is one of the core support elements CENSIS offers to companies embarking on IoT design and implementation.
Additionally, organisations like IASME have rolled out a specialised IoT certification scheme to help manufacturers demonstrate their products comply with best-practice security.
More processing at the edge
Edge processing is where IoT meets machine and artificial intelligence. It means that IoT data is gathered and processed 'at the edge' of a device, rather than sending the data up to the cloud with the resulting time lag.
While edge processing has been known and talked about for years, it has yet to really take off commercially. It is, however, on the radar of the R&D teams of network providers who are beginning to see congestion on their infrastructure. With the predicted growth in IoT devices, this issue is only going to get worse, and more data processing will need to take place closer to where it is collected.
The rise of MIoTY
Designed by the team at Fraunhofer IIS, the company behind the world's first MP3 player, MIoTY is a new low-power, wide-area network (LPWAN) protocol purpose-built for massive industrial and commercial IoT deployment.
By 2026, billions of devices will be connected to the internet, sending data in parallel to one another. A huge increase in data traffic could lead to interference issues and the possible loss of data.
MIoTY's unique telegram-splitting technology means devices will be less susceptible to interference, while the system will still offer the range, reliability, and battery life we expected from LPWAN technology. As a result, we expect to see MIoTy's technology deployed across the UK, including in Scotland.
Satellite IoT will blast off
IoT services provided by networks of satellites as a means of connecting to the internet will grow next year. An alternative to cellular or LPWAN, satellite IoT is particularly good for providing coverage in rural and remote areas for use cases like monitoring energy pipelines and infrastructure assets or delivering agriculture or aquaculture operations.
With plenty of bandwidth available, this an enabling technology that is set to help pave the way for the predicted scaling up and mass deployment of IoT in 2023. IoT connectivity from satellites adds another layer of resilience, as the system is no longer reliant on traditional backhaul technologies that can be vulnerable to disruption. To take a recent example, the break in an undersea cable that caused serious disruption to landline, internet, and mobile services in Shetland in October 2022.
Truly 'smart' energy monitoring
More IoT technologies to help tackle rising fuel bills – both domestic and commercial – will emerge next year. Scottish SMEs, such as iOpt, already have systems that provide real-time asset monitoring to help maintain warm and healthy homes.
Already adopted by several local authorities and housing associations, we predict we will see more of these kinds of devices fitted – particularly in social housing. On the commercial side, we expect more work to be carried out to offer truly flexible energy tariffs and intelligent controls, so that energy-intensive work can be scheduled during the times of the day when energy tariffs are cheaper.