18 January 2023 | Paul Winstanley, CEO, CENSIS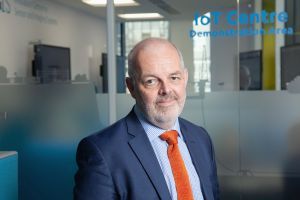 Paul Winstanley, CENSIS CEO, penned this piece for the team at STAC, Scotland's smart things accelerator programme based in Glasgow. Paul is one of the founding members of STAC. 
Scotland may be a relatively small country, but it can punch well above its weight when it comes to the Internet of Things (IoT) and innovation, more generally. However, to do that we need to be smart, focussing our efforts on the market sectors that play to our strengths.
That means looking at areas where there are big opportunities. Housing stands out as a sector where IoT can be a big support to national initiatives and policy direction, including the implementation of retrofit programmes and the target of reaching net zero by 2045. With our support, iOpt has been working with local authorities in recent years to identify energy efficiency challenges in social homes that could lead to fuel poverty – a huge issue, especially at the moment.
Agri-tech is another great example of an industry where we have demand and previous success to build on. We're doing that through the 'digital dairy chain' Strength in Places project in south west Scotland and Cumbria, led by SRUC and funded by UK Research and Innovation, which will create new products, retain jobs in these areas, and decarbonise the sector.
While we already have an established presence in a number of markets, we also have opportunities in areas like health and social care. Social care, in particular, is where technology could help providers to better handle Scotland's geography and population distribution. For example, the coming changes around telecare services – the technology that allows mainly older people to stay safe and independent in their own homes – could lead to one of the largest IoT deployments we have seen in Scotland.
We have a mix of urban and rural and remote communities in a country small enough to bring people together, but big enough to be significant on the UK and global stage. This makes Scotland the ideal petri-dish for innovation. We can look at the delivery of health and social care in different settings, how improvements can be made, and take that all the way through to vibrant companies that will ultimately deliver social and economic benefit for the country.
On top of that, we need the right assets in the innovation ecosystem to take that vision, build a proof of concept, and then turn this into a viable, sustainable business. We have skills at each of these junctures, which is helping Scotland get better at taking ideas through to fully actualised companies.
Yet, the most important part of delivering these kinds of successes will be collaboration – whether that is between companies, academic institutions, public services, or communities. We have to combine the diverse range of assets at our disposal and use them to make it easier for new initiatives to take place and businesses to develop.
That's what CENSIS, and the Innovation Centres as a whole, are all about. STAC itself is a great example of what can be achieved. We saw there was a gap in the ecosystem that needed filled, but that had to be done by an organisation that wasn't CENSIS, so we made the decision to partner with others on STAC's creation.
What's getting in our way? To my mind, the main obstacle is self-belief. There are lots of things happening in Scotland that are of relevance beyond our borders – we shouldn't be shy about putting our heads above the parapet and sharing those stories.
Part of the challenge is about recognising those successes and celebrating them, which we don't do often enough. Scotland had a global position in many industries throughout its history, so let's not be shy about it and take the chance to share our ideas elsewhere, showing why we can be a world leader in innovation once again.