23 January 2023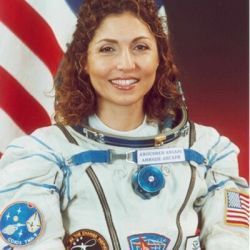 Two very special events featuring XPRIZE CEO & former astronaut Anousheh Ansari
CENSIS, along with several partners, is pleased to announce two very special events in January as we welcome former astronaut Anousheh Ansari to Scotland for a two-day visit
In 2006 Anousheh captured headlines when she embarked on an 11-day space expedition to the International Space Station. She was the first astronaut of Iranian descent and the first Muslim woman in space. Anousheh is currently CEO of XPRIZE, the world's leader in incentive competitions to solve humanity's grand challenges. Prior to this, she co-founded and ran Prodea Systems, a leading IoT technology firm.
Four special events for Scotland
SCHOOLS EVENTS
The two day event will see Anousheh visit Glasgow on 30 January and Edinburgh on the 31st. Each morning is a schools-focused activity for secondary school pupils featuring a special keynote from Anousheh on 'fulfilling your potential'.
the next generation of innovators.
BUSINESS EVENTS
Each afternoon is focused on a business and industry session. To mark Anousheh's visit, we invite you to register for one or both of these free business events to hear from Anousheh and meet and connect with leading researchers and businesses in two important market sectors.
EVENT 1: 30 January 2023, Glasgow
Outer space and pushing the frontiers of human potential
Making Scotland a world class place for the space sector – including manufacturing, space access and satellite data processing – is a priority of the Scottish Government. Scotland's dynamic and growing space sector focuses upon a number of high-tech, high skill and research and development intensive areas, creating a Scottish space industry with great potential for further growth.
The agenda includes:
Keynote from former ISS astronaut Anousheh Ansari, including a Q&A
Presentational pitches from leading Scottish space companies
A chance to network and meet with over 15 exhibiting companies in this area
Relax at the end of the day with an IMAX film about the International Space Station
EVENT 2: 31 January 2023, Edinburgh
Robotics, Automation and AI – Robotics, AI, and pushing the frontiers of human potential
Scotland is at the forefront of robotics and automation research and development and is home to several world-leading companies as well as the new multimillion pound National Robotarium situated at the heart of Heriot-Watt University's Edinburgh campus. With unrivalled technology and facilities, the Robotarium is home to world-leading experts in robotics, data and artificial intelligence.
The agenda includes:
Keynote from former ISS astronaut Anousheh Ansari, plus Q&A
Presentations from leading lights in Scottish robotics including Stewart Miller, CEO, National Robotarium; Zaki Hussein, CEO, Touchlabs and XPRIZE Alumnus; and Sethu Vijayakumar, Professor of Robotics, University of Edinburgh
A chance to network and meet with with exhibiting companies in the sector
Further details
These are fully in person events. They are aimed at academics, companies of all sizes, and individuals involved in – or with a working interest in – either the space sector or in robotics, automation and artificial intelligence.
Places are limited so please make sure to sign up promptly. Follow the links above to find out more and secure your place.
Support and sponsorship
These events would have not been possible without the support of XPRIZE, Glasgow Science Centre, The National Robotarium and sponsors: