7 March 2023 | Jim Cockram, CENSIS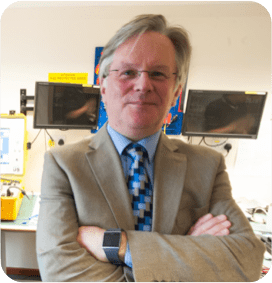 Jim Cockram, business development manager, CENSIS, looks at three standout themes from the world's largest digital transformation showcase
This article originally appeared in Digit on 6 March
Last month saw the 2023 IoT Solutions World Congress take place once again in Barcelona, where more than 15,500 visitors gathered to learn more about game-changing technologies for digital transformation. For CENSIS, it offered an opportunity to explore the latest in Internet of Things (IoT), artificial intelligence (AI), digital twins and blockchain technologies, which could play an important role in the digitalisation of Scotland's key industries.
This year, the organisers attracted one-third more visitors than in 2022, highlighting the fact that doing business internationally and in-person is firmly back on the agenda after the pandemic. Headline themes included technologies we are already seeing talked about and used by Scottish businesses, such as 5G connectivity and edge computing, while other sessions explored ideas at a much earlier stage of the development process, such as industry 5.0.
The 330 exhibitors and 250 speakers offered far more than can be summarised succinctly here, but there were three key areas to watch:
Evolving cyber security concerns
One of the most interesting sections of the conference was the dedicated Hacking Village, which saw ethical hackers raise new issues and possible weak spots in terms of cyber security. Something for everyone to think about is how much your web browser history can reveal about your digital identity, and the recommendation was to regularly clear your history, and use different programs and incognito tabs where possible. Same-origin policy (SOP) protocol means that unless you launch a new tab, scripts contained in the first web page you visit can access data in a second web page – i.e. showing what you look at or search for next.
Separately, for companies developing IoT products and systems, there is a need to secure hardware devices by design, as well as protecting the networks and software. One vulnerability highlighted was the development of patching speed, which could allow hackers to make significant changes in a matter of hours. If that goes undetected, a lot of damage could be done in a relatively short time frame.
The conversation also included hacking on circuit boards and, although these should be locked down, it is believed to be quite easy to break in and read the memory which could include key information like passwords. A possible fix for this is to invest in top-of-the-range chips (supply chain issues notwithstanding), but that will inevitably come at an increased cost.
An increase in integrated service offerings
Over the last couple of years there has been a market shift which was reflected by many of the exhibitors in Barcelona. Previously, we saw companies providing components or single-purpose products or devices to a range of sectors, but now we see much more in the way of fully formed IoT solutions that aim to solve real problems in established markets..
A couple of the more notable examples were targeted towards the built environment, offering one-stop systems to manage smart homes and offices. Bulgarian-headquartered Shelly, for example, not only helps to automate processes in the home – such as lighting and blinds – but also monitors energy use, helping to make buildings more efficient. Crucially, each element of the company's technology is integrated and easy-to-use via a mobile app, meaning that consumers no longer need to look to a range of different providers for each of the different elements they want to control.
The business case for digital twins
Digital twins have been around for some time. But now, with more talk about the metaverse, the adoption of digital twins could gather pace quite quickly. While the metaverse is typically an interpretation of a virtual world for gaming or experiential activities, a digital twin is a more valuable equivalent that can be used for real-world applications by businesses and the public sector.
According to one estimate by Markets and Markets, the market for digital twins is forecast to grow to more than $73 billion by 2027 from $6.9 billion in 2022[1]. Among the most interesting applications is the use of a digital twin to plan the 2024 Paris Olympic Games. UK company OnePlan will deliver a digital replication of almost every venue used. Twins of the Stade de France and Place de la Concorde have already been created as part of the testing process.
Organisers will use the digital twin for accessibility planning, broadcasting logistics and more, which will reduce the need for site visits and cut down on transport to and from the venues ahead of events. Real-life use cases like these are showing the range of tangible environmental and economic benefits others could see by adopting digital twins and related technologies across a range of buildings.