28 June 2023 | Cade Wells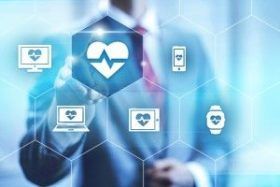 Cade Wells, Business Development Director at CENSIS considers the cyber security implications of using 'gamification' in healthcare technologies 
This article first appeared in Digitalisation World on 23 June 2023.
Parents often complain about the amount of time their kids spend playing games, but the principles behind this growing form of entertainment are being used in some highly positive ways. Perhaps the best example is the emergence of 'gamification' as a powerful tool in the realm of healthcare.
For those unfamiliar with the concept, in this context gamification refers to the integration of gaming elements, mechanics and design principles into healthcare services via an online platform or a smartphone app. Game-like features are used to engage, motivate and encourage users to adopt healthy behaviours.
This was the topic of a cybersecurity workshop we hosted with students from the University of Glasgow, exploring the potential benefits, challenges and future possibilities that adopting gamification platforms may pose to our health and wellbeing.
Can gamified apps level up your health?
From fitness tracking apps like Strava to immersive cycling experiences such as Peloton, gamification has successfully tapped into people's competitive spirit, turning exercise into an interactive and engaging experience. This was demonstrated in a study by the American Council on Exercise, finding that those who use fitness apps with gaming features showed a 22% increase in physical activity.
Financial incentives traditionally played a key role in gamification – for example, lower health insurance premiums – but there's been a notable shift towards non-financial rewards. Gamified apps increasingly focus on correlating health outcomes with benefits like social recognition. Apple Watches, for example, allow users to share their fitness activity with friends and family, stimulating motivation and encouraging long-term behaviour changes.
These apps have also proven their potential in improving mental health. The link between physical and mental wellbeing is well understood, but they also create a sense of achievement through progress tracking and reaching objectives.
At the same time, it's important to recognise the benefits game-like features can bring to the older population. Apps can be used to help them break sedentary routines and increase overall fitness levels. Various studies have demonstrated a link between physical inactivity and cognitive decline, which a more engaging experience can help to prevent.
Hurdles still to jump
There are, of course, challenges to overcome. Integrating gamification into health-related activities can be difficult for those with limited experience of digital platforms. Traditional approaches may be the best way of encouraging the current generation of older people to be more active – albeit that should change over time.
In addition, as with any form of monitoring, there are legitimate concerns over privacy. Gamified strategies have to be implemented without fears of a 'Big Brother' approach from whoever is collecting the data, with clear boundaries set out.
Likewise, at the core of any app is the quality of its data – care needs to be taken to ensure that what is being collected is credible and insightful, otherwise it is of little value. This is where psychology and sociology are just as important as technical nous, with the need to reflect human behaviour in how apps are designed.
Debugging cyber threats
Cyber security is also a paramount concern. Health-related data is one of the prime targets for extortion attacks from cyber criminals, so app creators must invest time and resource in robust cybersecurity measures to protect sensitive information and maintain user trust.
The UK Product Security and Telecommunications Infrastructure regime is set to play a significant role in ensuring the security and privacy of health-related devices, when it comes into effect early next year. While the law will not apply to products that fall under the Medical Devices Regulations 2002, consumer health and wellbeing devices will be affected.
Manufacturers will have to read the fine print to ensure they comply. Based on advice from the National Cyber Security Centre, the law will require product developers to act in accordance with minimum security standards, such as preventing default passwords, providing a point of contact for cyber-security issues and informing people how long their device will receive updates for.
In the meantime, certification schemes, such as IASME's IoT Cyber scheme, can provide assurances over a device's compliance to both UK legislation and the leading global technical standard in IoT security. And, it's important to remember that every market has its own regulatory requirements, ensuring organisations adhere to the law.
What's the endgame?
The next stage of gamification in healthcare will likely be combining data from different sources to provide a more comprehensive view of people's wellbeing. Connecting devices like fitness trackers, sleep monitors and nutrition apps can enable a more accurate and complete understanding of someone's health and patterns of behaviour.
Careful consideration is still needed to address the challenges of gamified healthcare technologies, but their potential is undoubtedly immense. While gaming may still be associated with sitting at a computer or on a couch, it may actually be the key to healthier lifestyles for generations to come.