9 August 2023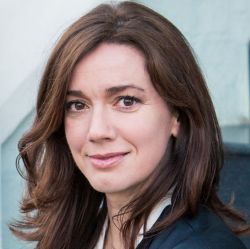 Technology ethics broadcaster and researcher Stephanie Hare will give the keynote address at the CENSIS Technology Summit in Glasgow on 2 November 2023.
Stephanie is the author of Technology is not neutral: a short guide to technology ethics. The Financial Times named it one of the 'best summer books of 2022', with the review saying it was "essential reading for policymakers and anyone working in technology, business and finance".
Stephanie's work looks at how we can create and use tools and technologies such as Artificial Intelligence and IoT to maximise benefits and minimise harms. In her own words:
"This is one of the most urgent questions today and it concerns everyone. After all, while only some of us create technology, we all use it and we all experience it being used on us – often without our knowledge or consent.

That's because technology is not just about tools and toys, products and services, or data and code. It's about power, and our relationship with power is shaped by our values – our ethics."
Stephanie's mission is to help anyone creating, using, investing in, and regulating technology – and to empower all of us to hold technology to account.
Register to join us on the day to hear Stephanie's keynote. The Tech Summit is free to attend.
Stephanie is part of the BBC's 'Expert Women' programme, contributes frequently to BBC World Television and the BBC World Service, and has published in the Financial Times, The Washington Post, the Guardian/Observer, Harvard Business Review and WIRED.
Previously she worked at Accenture, Palantir, and Oxford Analytica, and held the Alistair Horne Visiting Fellowship at St Antony's College, Oxford.
Stephanie earned a PhD and MSc from the London School of Economics and Political Science (LSE) and a BA from the University of Illinois at Urbana-Champaign, including a year at the Université de la Sorbonne (Paris IV).