14 August 2023 | Stephen Milne, CENSIS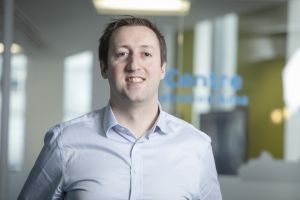 Stephen Milne, Director of Strategic Projects at CENSIS considers the challenges – and opportunities – around building sustainability and circularity into electronic devices. This piece was originally published in The Scotsman
There is a routine to most people's relationship with their electronic devices. You buy a new product, use it for several years, and then upgrade to the latest version. According to figures from uSwitch, 75% of people in the UK change their mobile device at least every three years.
That creates a major challenge for the sustainability of electronics. Globally, more than 50 million metric tonnes of electronic waste, or 'e-waste', is generated every year – equivalent to an average of around seven kilograms per capita. Yet, only 17.4% of that e-waste was collected and recycled, official figures from 2019 show.
Last year, the UK produced the second highest amount of e-waste at 23.9 kilograms per capita. While there was no specific figure for Scotland, we will no doubt have accounted for our fair share, underlining why we need a more sustainable way forward – especially as the number of devices only looks like rising through greater adoption of the Internet of Things (IoT), wearable technology, and the fourth industrial revolution.
That is without mentioning the seemingly inevitable introduction of some form of carbon tax on consumer products. Policymakers are known to be considering attaching financial disincentives to goods that have a detrimental impact on the environment, so it is in both consumers' and companies' interests to start looking at more sustainable choices sooner rather than later.
However, it should be recognised that this is a very new area. There is a great deal of research – with the University of Edinburgh and Glasgow, in particular, at the forefront of academic enquiry – but little in the way of industrial activity. Funding bodies, including EPSRC, are beginning to provide support to those interested in addressing the challenge.
Nevertheless, for now it begins with re-designing products to remove rare materials and metals. Where they cannot come out, components and materials should be recoverable or re-usable when they reach the end of their lives.
During their use, it is also about finding alternatives to using batteries – such as energy harvesting – which are notoriously difficult to recycle. The long-term goal will be technologies like compostable electronics, which you use for their intended lifetime and then will simply degrade in an environmentally benign way. The reality is, though, that this is probably decades away from being feasible.
The good news is that we already have some exciting companies in Scotland trying to make huge changes. One of them is St Andrews-based SolOLED, which makes the key materials for a range of everyday technologies – such as TV screens and mobile phones – much more sustainable and cost-effective, by removing their need for some of the planet's rarest metals, including iridium.
Integrated Graphene is another business doing exciting work. It is developing technology that could underpin battery-less IoT devices for a range of remote sensing applications. And, at the end-of-life stage, SEM is creating recyclable solvents that can extract gold and copper from printed circuit boards, alongside other valuable metals – such as aluminium, tin, and zinc – using co-products from the whisky industry.
At the moment, there are a lot of drivers for sustainable electronics, but not many viable solutions. While we are in the early stages of this emerging set of technologies, there is undoubtedly an opportunity to be grasped. With expertise in the disciplines that will be key to turning concepts into scalable products, Scotland could, and arguably should, be at the forefront of making that happen.