2 October 2023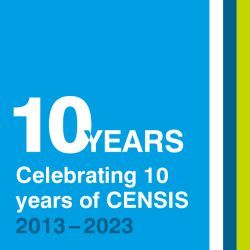 CENSIS marked a decade of innovation, collaboration and impact with a reception at the Scottish Parliament on last month.
The evening brought together industry, academia and the public sector, and was an opportunity for companies that have previously been supported by CENSIS to showcase their technologies to guests at the Holyrood Room.
Utopi, Beringar, Pneumowave, M2M Cloud, Sensor-Works and iOpt demonstrated their products and services.
The reception was sponsored by Clare Adamson MSP, Convener of the Scottish Parliament's cross-party group on Science and Technology. Clare delivered the welcome address, toasting the innovation centre's successes of the past 10 years.
She was followed by CENSIS CEO Paul Winstanley, who talked about CENSIS's ambitions to continue to help companies create more jobs, grow the Scottish economy and make a positive impact on society and the environment using digital technology.
Paul said: "This evening serves as a reminder of how far we've come, and we're thrilled to have this opportunity to bring together our network and supporters that we've had from the start. As we reflect on our achievements, it's exciting to think of what the future might hold for us, as the latest technologies evolve to respond to the needs of Scottish businesses and public organisations."