15 November 2023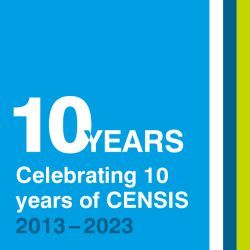 A 10 years of CENSIS case study
Topolytics – a company specialising in data aggregation and analytics that is making the world's waste visible, verifiable and valuable – secured £1.5 million from a syndicate of investors earlier in 2023 and has plans for further expansion. Read our case study about the company's early days, and the ways in which CENSIS provided support.  
Few companies can be said to be ahead of their time, but in the case of Edinburgh-based Topolytics that is exactly what it was when it first started back in 2013. While awareness of corporate impact on the environment was an issue at the time, it certainly was not the hot topic it is today – and the acronym 'ESG' was yet to be a preoccupation of boardroom discussions.
Topolytics founder Dr Michael Groves set up the company after cutting his teeth in Asia working on sustainable forestry management projects across Indonesia, Papua New Guinea, and Malaysia among other places. He then created, and subsequently sold, an environmental consultancy that provided sustainability reports for large corporations.
In creating these reports, Michael realised that while the data going into them was useful, it ended up out of date almost as soon as the reports were published, rendering them an expensive and historic 'nice to have'. So, what he wanted to do instead was 'hitch real data to real reporting', providing much more live and interactive features which would give companies actionable information.
After originally starting out looking at environmental factors generally, Topolytics decided to focus on waste. In 2016, an 18-month project opportunity in Falkirk, supported by CENSIS, acted as the first stepping stone towards that specialism.
Creating a 'sensor shield' in Grangemouth
After several incidents in previous years at major industrial facilities in other parts of the country, the local council in Falkirk wanted to explore ways of providing an early warning system for potential issues – such as gas leaks – at Grangemouth.
Working with partners, including the University of St Andrews and CENSIS, Topolytics helped develop a 'sensor shield' and dashboard that would help the authorities monitor the industrial site and pick up any events that required actioning. The experience helped the nascent company to understand how to work with data from thousands of remote sensors and better define its offering to potential clients.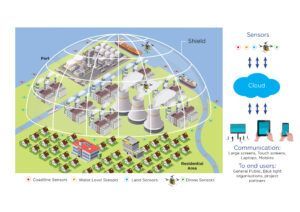 Michael said: "The Grangemouth project helped us move Topolytics on – it was a real learning process. The experience gave us a head start on what we knew we would begin to encounter, as technology and data science progressed. It really gave us the technology underpinning we needed. So, from around 2018 we decided to focus on waste and used the experience of dealing with sensor data to make that work."
At the forefront of the 'bindustrial revolution'
Shortly after the project, in 2019, Topolytics won the Google Cloud and SAP Circular Economy 2030 Contest, fighting off international competition to claim the $100,000 prize. More than 250 companies from around 50 countries applied.
Topolytics built its software-as-a-service (Saas) offering, leading to the development of its Waste Map product. The platform helps companies to track the waste produced as part of their operations, quantify the footprint of their waste, and manage the performance of contractors.
Topolytics has already signed up the likes of mining group Anglo American, Highland Spring, and British Airways, with plans for further international expansion ahead. The company is working with Scottish Development International to unlock opportunities in markets such as Australia, North America, Japan, and Europe for its Waste Map.
Meanwhile, at home, Topolytics has won a major contract from the Department for Environment Food and Rural Affairs (DEFRA) to develop a waste management tracking system for the UK Government. The system will need to accommodate real-time data from sensors, based on similar principles to the Grangemouth project.
Since launching, the company has grown from just three people to 15. After securing £1.5 million from a syndicate of investors earlier this year, Topolytics is planning to fundraise again to support further expansion.
How CENSIS helped
Michael said: "When you are tiny and new, and exploring your proposition, you need friends. CENSIS was a real friend to us and provided validation of what we were doing. The team also had connections and knowledge we didn't have. I don't think we could have engaged with the University of St Andrews without CENSIS.
"The team is very approachable, has real knowledge of its domain, and provided us with an objective, technology-agnostic view throughout. We received a number of worthwhile introductions and got some publicity as well. It would have been much more difficult to take forward our plans without CENSIS's support."
Stephen Milne, director of strategic projects at CENSIS, said: "Topolytics was well ahead of its time. The team could see that remote sensing and real-time data were going to be a big part of waste management in the future, but they didn't have the technical skills or understanding of how to work with sensors to help them develop that offering.
"CENSIS isn't a technology provider, so we were able to give Mike and the wider Topolytics team an unbiased view of what technology would be best for the service they wanted to provide. On top of that, we could provide the right introductions to the people with the expertise that best matched their needs.
"The business has come on leaps and bounds in a relatively short period of time. We're excited to see where Topolytics goes next with technology that will only become more relevant as ESG considerations become an ever more important part of company reporting."