17 September 2018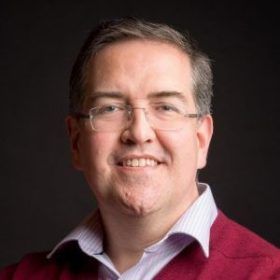 8 Nov 2018, Glasgow Royal Concert Hall, 9.00am – 5:00pm
Speaking at our 5th CENSIS Technology Summit will be Michael Talbot, Head of Strategy at Meridian, the gateway to self-driving vehicle development in the UK.
Connected and Autonomous Vehicles
Meridian was created by government and industry to focus on key areas of UK capability in the global Connected and Autonomous Vehicle (CAV) sector which is predicted to be worth £907 billion by 2035. These include advanced development and validation, connected environments, data and cyber security and new service development.
Meridian brings together government, academia, innovators and developers of intelligent mobility solutions in a collaborative partnership. It facilitates and supports the acceleration of the UK's emerging connected and autonomous vehicle sector within the global transport ecosystem with resources to enable profitable growth. Government and industry have committed an initial £100 million through Meridian to develop a coordinated national platform of CAV testing infrastructure.
Meridian supports the development of intelligent mobility primarily through projects and testbeds by facilitating partnerships across sectors and around the world enabled through access to funding. Its aim is to create a world class, highly competitive CAV testing and  development ecosystem in the UK.
About Michael
Michael is Head of Strategy at Meridian. He is on secondment from the UK Government's Centre for Connected and Autonomous Vehicles (CCAV), of which he was a founding member in 2015.
Prior to CCAV, Michael was Head of Horizon Scanning in the Government's Horizon Scanning Programme, establishing a cross-Government Emerging Technologies Community of Interest reporting to the Cabinet Secretary's Advisory Group.
Michael holds Master's degrees from the Universities of Toronto and Oxford.