26 August 2019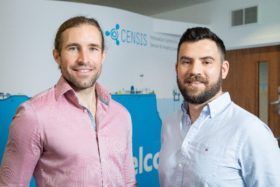 This story was featured in The Scotsman on 26 August 2019.
Glasgow based start-up R3-IoT (now Krucial) is planning to go global with the development of a system that uses satellite technology to provide IoT connectivity in some of the most remote parts of the world.
Established in June 2018 by former Clyde Space colleagues Allan Cannon and Kevin Quillien, R3-IoT is undertaking a first round of fundraising as it looks scale the business internationally. It recently won £100,000 at the Scottish EDGE awards.
R3-IoT is working with CENSIS to develop an IoT gateway that transfers data from rural sensor networks to the cloud, via satellite. The technology is aimed at businesses that could benefit from access to real-time data from isolated operations.
In Scotland, this includes sectors such as aquaculture, environmental monitoring, remote healthcare, and renewable energy. The technology could have further worldwide applications in mining, oil and gas, logistics, industry 4.0, and a variety of other remote industries. A recent report from North Sky Research said the value of the 'IoT via satellite' market would grow from $1.6 billion (£1.26 billion) to $4 billion (£3.16 billion) by 2028.
R3-IoT aims to capitalise on the ongoing commercial space race between the likes of SpaceX, Amazon, and OneWeb which is expected boost the competitiveness of space-based communication services.
Allan Cannon said: "There are a lot of pain points to deploying IoT and working with satellites at an enterprise level: the upfront capital expenditure, specialist skills required, being beholden to a specific technology, and the overall security of the end-to-end solution. We're well aware of the traditional barriers to IoT and satellite connectivity adoption, and R3-IoT is addressing each of them directly. Our model allows businesses to connect their most valuable assets in a seamless and cost-effective way that, in turn, provides them with access to high-value data with which they can make smarter decisions and cut costs.
"There is a huge market for this kind of service, and we believe our technology can meet a significant part of the demand. Interest is growing in predominantly large enterprises across a range of sectors looking to make efficiencies or improve productivity through better access to data. They may even currently send someone in a plane or boat to collect the data, which is time-consuming, expensive, and the data itself is lagged by the time it's delivered to decision-makers.
"Scotland is the ideal testing ground – everything we need is on our doorstep: relevant industries with remote operations, access to experts in the technology, and a national appetite for IoT. However, we're not limited geographically – the product has vast international potential and is easily deployable. We've had a lot of interest in our funding round as we look to take the business to the next stage."
CENSIS has been contracted by R3-IoT to create the prototype product including the hardware, software and user interface, and the design of its cyber security infrastructure. This minimum viable product will allow R3-IoT to conduct a series of field trials, facilitated through CENSIS and its partner organisations, before a design is finalised and the gateway deployed.
Craig Fleming, CENSIS Senior Business Development Manager , said: "Connectivity in remote areas has been a longstanding issue, as anyone working in rural parts of Scotland and beyond will know. This project could bring a real game-changing technology to market, giving businesses the opportunity to understand their operations where previously it wasn't technologically feasible or economically viable. What R3-IoT is doing underlines the transformative potential of IoT and the hidden value it can unlock in companies, whether they are tech-focussed or operating in more traditional industries."