21 July 2020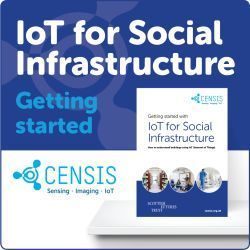 Understanding buildings using IoT
In partnership with the Scottish Futures Trust, CENSIS has produced another of its 'How to' guides on using Internet of Things (IoT) technologies to address business and organisational challenges.
'Getting started with IoT for Social Infrastructure' (download your free copy) explores the assets that enable the delivery of our public services – including schools, hospitals, public buildings, and social housing – and shows how IoT technologies can be used to optimise the ways in which these places are used and maintained.
Understanding how buildings perform – either at an individual level or across large estates – is crucial not only for the delivery of high quality, efficient public services to support communities and promote economic growth; but also to support Scotland's longer-term goals around carbon reduction.
With a wide of range of mature, reliable and cost-effective IoT technologies on the market, the guide takes a step-by-step approach to showing public sector organisations how to plan and deliver secure solutions.
This guide may be read on its own or as a companion piece to either of CENSIS's earlier IoT guides: