15 June 2021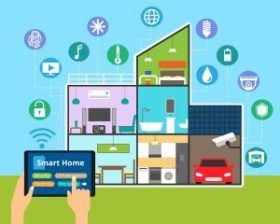 A consortium of businesses, research groups and public sector organisations including CENSIS has secured funding to create three new 'communities of the future' designed to help older people in Scotland live longer, healthier, independent lives.
Led by Blackwood Homes and Care, the £12.5m 'Neighbourhoods for Independent Living' project – to be known as the 'Peoplehood' project – will help people stay well and physically active as they age, including exploring the use of new technologies to support them. The programme has received £6m from the UK Research and Innovation's Industrial Strategy Challenge Fund Healthy Ageing Challenge while the remaining £6.5m is being contributed by project partners.
New neighbourhoods in Dundee, Glasgow, and Moray will place an emphasis on including residents in designing and testing a range of innovations to support healthy ageing. CENSIS will support the project by advising on how best to maximise IoT technologies to enable better models of community living for older people.
The project will also explore accessible outdoor spaces so that people can remain physically active, supported by secure digital connectivity and infrastructure that respects data privacy. Sustainable energy and transport elements of the project will aim to reduce community carbon footprint and reduce transport costs.
Neighbourhoods for Independent Living is one of five 'trailblazer' projects sharing £23m in funding from UK Research and Innovation's Industrial Strategy Challenge Fund Healthy Ageing Challenge.
Further information
Press release from Blackwood Homes and Care
UK Research and Innovation works in partnership with universities, research organisations, businesses, charities, and government to create the best possible environment for research and innovation to flourish. It works with many partners to benefit everyone through knowledge, talent and ideas. Operating across the whole of the UK with a combined budget of more than £7 billion, UK Research and Innovation brings together the seven research councils, Innovate UK and Research England.