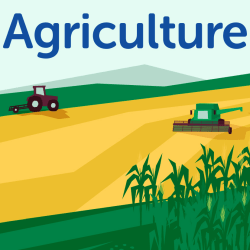 Meet CENSIS at Future Farming Expo, a new event for Scotland's farmers, helping to make Scotland a global leader in innovative, profitable and sustainable agriculture. The Expo includes innovations and new technologies for arable and livestock, farm business and diversification, sustainability and carbon and smart technologies and AI.
The fast changing landscape for farming means strategic thinking, business resilience, new technology and rapid innovation are becoming more important on-farm, particularly as Scotland works towards its Net Zero goal. Created by farmers, for farmers, Future Farming Expo is an exhibition focusing on knowledge exchange so that every visitor goes home feeling like they have gained a crucial understanding of where the industry is heading, and how to tackle the challenges head on.
This is a free event filled with ideas and opportunities on how to increase productivity, profits, and resilience for farm businesses.
See first-hand what actions the industry is taking to reach net zero
Connect with other forward-thinking farmers and rural business owners
Stay ahead of the game by understanding what factors you need to implement in order to move forward
See machines and technology that will redefine farming and help re-imagine what's possible
Join CENSIS at Stand C316 for a look at our case studies and projects and find our about the expertise we hold in-house to support individuals, companies and and organisations of all sizes working in precision agriculture and wider natural capital.