27 July 2018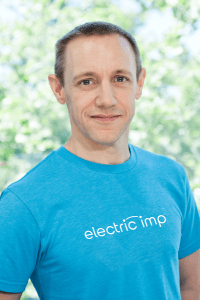 8 Nov 2018, Glasgow Royal Concert Hall, 9.00am – 5:00pm
We are thrilled to announce that the Keynote Address at the 5th CENSIS Technology Summit, will be given by Hugo Fiennes, CEO and Co-founder of Electric Imp.
Headquartered in the US, Electric Imp "takes care of Internet of Things  connectivity and security, so you can take care of business". The company, and its partner ecosystem, helps businesses use the IoT to solve industry-specific challenges, such as control and monitoring, predictive maintenance, and connected commerce to name a few. Instead of dedicating time and resources to building and supporting complex IoT technology, Electric Imp can help companies spend more time creating value from their connected products and growing their business.
Please join us on the day to hear Hugo's thoughts on how IoT is changing the business world.
Hugo will also be delivering a free Electric Imp masterclass the following day, Friday 9 November.
About Hugo
A maker at heart, Hugo has always loved building things and making them work. He founded his first startup in 1985, selling his bulletin board and terminal emulation software and has been hooked on digital communications ever since. After belatedly enrolling at the University of Warwick, he received his degree in Computer Systems Engineering.
Shortly after graduating, he started his next venture – Empeg – that built the world's first in-car MP3 player (and second ever Linux-powered consumer device). Following Empeg's acquisition by Rio, he spent several years working on networked and portable MP3 players before being lured to Apple with the promise of working on "a really really cool product." That product turned out to be the iPhone, and Hugo led the hardware team through the first four generations of the iconic device, before being tapped to build the first Nest thermostat.
During his time at Nest, Hugo realised that connected devices were going to change the world for the better, but only if they were secure, maintainable, and flexible – and that these qualities were available to every device maker. Along with co-founder Peter Hartley, he came up with the unique architecture that forms the Electric Imp IoT Connectivity Platform, and founded the company in 2011.
Follow Electric Imp on Twitter
Thank you to our sponsors: