Registration closes 25 October 2021
In November 2020, over 2,300 people joined Scotland's Countdown to COP26, an online conference designed to kick off a year of debate and activities to deliver collaboration and climate change programmes across multiple sectors within Scotland and beyond.
On 26 October 2021, CENSIS once again teams up with the Herald to deliver a significant follow on event, Scotland's contribution to COP26: a joined-up Just Transition, focused on Scotland's transition to net zero.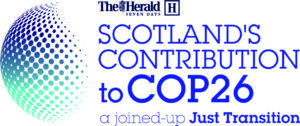 Delivered exclusively online, the conference will not only examine the speed and scale at which Scotland must move to tackle climate change, but also ensure that no-one is left behind in the process.
On this occasion the conference is delivered in partnership with over 20 governmental, public and third sector organisations from across Scotland.